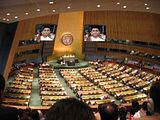 there's something about the un that makes me want to work there. hmmm...di ko alam. is it the thought that people from different cultures are coming together to work for world peace? (come on, look at iraq and how the un was inutile in stopping the us from waging war.) or it must be the movie i watched recently (ganda kasi ni nicole kidman hehe).
so ano ba talaga kuya? will you be a journalist, a lawyer, a teacher or an ambassador to the un? a e, pwede bang maranasan lahat? talk about career crisis. just when i thought i had everything planned out.
got this photo from a friend who's in new york right now (thanks a lot). i told her iphophotoshop ko so eto na nga. ang kapal talaga! anyway, i could sense makakarating din ako dyan sa building na yan...maybe as a tourist first, then as a man with a mission (of blowing up the building haha...terrible...wala po akong balak maging terrorist, just to be clear about it).
this world affairs thing has really gotten me interested recently. not that i know so much about it (i certainly would want to study world politics), but it has made me want to work for cnn or bbc. not just for the perks of travelling and getting to other places but also to gain a global perspective on different things. well, it also helps that i'm fascinated with cnn's huge screen, yung nahahati haha (i sound so bobo and frivolous). saw one in pldt last year. magkano daw? 25 million. in ten years i said haha.
or baka mag-al jazeera na nga lang ako. total, my parents are in qatar and from the looks of it, hahabol sa kanila brother ko when he's done with his nursing studies. astig nga yun, baka mainterview ko pa si bin laden.
but nah, i think i have a reason to stay in the philippines. well, maybe reasons.
anyway...may isa pa akong dream job. agent 007. talk about my favorite fictional character. and it's not for the girls ha, but for the thrill of getting caught, tortured and killed. i don't know what's with sleuthing and spying (napaghahalata bang stalking is my favorite hobby?) i'm not quite comfortable though about the idea of breaking people's trust just so you could get classified info for your country. but if it's for the sake of saving the world... hay... messianic complex.
pero ang cool kasi ng gadgets ni james bond e. astig pa ng suit. san ka nakakita ng taong naka-coat and tie na umaakyat ng bubong. ayos pa ang mga car nya. and the hair! hindi nagugulo. gel ba gamit niya?
talk about worldly things. i might as well fuss about them on this blog and forget them afterwards than think about them the whole time. call that stress relief. nah, it's wishful thinking. or daydreaming on this hot summer day.
anyway, things are looking good these days. i've always thought it feels strange na walang ginagawa so i've been looking for some things for me to do; don't want to keep myself idle. if it's not going out of the house, writing is taking most of my time. writing as in blogging, sending e-mail, but definitely not the dorky writing type.
i hope to get some reading materials pretty soon. leisure reading. any suggestions? or good movies? foreign movies at that. chungking express? other wong kar wai movies?
talk about movies...wag na lang. basta, manonood ako ng movie pretty soon.
..........
not a man of the world, but a man in the middle of the world!